In our webshop we offer you the option to pay for your order in advance or afterwards (Afterpay). During the ordering process you will automatically be taken to the payment section. Here you can select your preferred payment method.
The payment procedure runs through Buckaroo (online payment provider).

iDeal
Payments via iDeal are only possible for orders within the Netherlands. With this method you can pay directly during the ordering process with your own bank. You pay in your own trusted internet payment environment, based on specific security methods of your own bank. If you already use telebanking, you can immediately use iDeal, without having to register for it.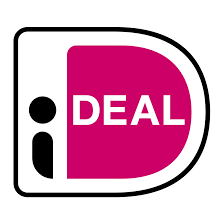 credit card
You can also pay with us by credit card. We accept Visa and MasterCard. The payment procedure via Buckaroo is done with a secure SSL procedure.

paypal
Paying with PayPal is easy by just entering your email address and password. You do not need to enter any bank or credit card details, these are securely stored by PayPal.

Bank transfer
If you would like to pay by bank transfer, you can also do this directly via Buckaroo's secure SSL procedure. Do not make any changes to the payment reference; your payment may then be lost.

Afterpay
See first, then pay. Afterpay is a safe and easy way to pay for your order afterwards. If you choose an Afterpay payment, you complete the order without payment. AfterPay will send you the invoice by e-mail after you have received your order. You can pay this invoice how and when it suits you best, within the payment term of 14 days. This can be done via the iDeal button in your invoice or by transferring the amount via internet banking. Safe and convenient.
AfterPay carries out the complete post-payment process for HappyRainyDays. This means that you will receive a digital invoice from AfterPay via email to pay for the purchased product(s). You can pay at HappyRainyDays with a digital invoice up to an amount of €200 when you pay for the first time via AfterPay. If you are already known to AfterPay, you can pay up to an amount of € 400.

Note: When paying with Afterpay we charge € 1.25,- payment costs, these costs are not refunded for a return.
AfterPay carries out a data check to approve your payment request. AfterPay applies a strict privacy policy as described in its privacy statement . In the unlikely event that your request for payment is not authorized, you can of course pay for the product to be purchased with another payment method.
You can always contact AfterPay if you have any questions. For more information, please refer to the consumer section of the AfterPay website .